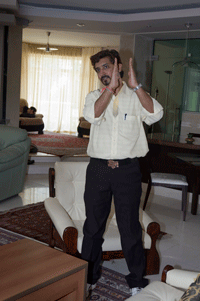 Sundeep Mohnot has been associated with the Film & Television industry for the past 15+ years. He is a member of Association of Film & Video Editors, Indian Film & Television Directors' Association & Film Writers Association.
Professional Journey:
I have worked with some well known personalities of this medium like GAUTAM ADHIKARI, MUKESH & MAHESH BHATT, TONY & DEEYA SINGH, AANAND MAHENDROO, N. CHANDRA, DHEERAJ KUMAR, etc... more...
Professional Bytes:
I have always taken keen interest in the other departments like SCRIPT WRITING, AUDIO & VISUAL EFFECTS and PRODUCTION more...
Other Attempts:
I had written the initial episodes of KIMTI BAATEIN, HAQUE & GRUHINI which were to be produced by SHIVAM EDUTAINMENT CREATORS more...
Education: Always striving to learn more more...

Sundeep started his film & television career in the editing department and worked with some well known film & television show makers. He has been associated with very popular shows television shows (TRP garners) like DEKH BHAI DEKH, BANEGI APNI BAAT, OM NAMAH SHIVAYA, JUST MOHABBAT, KHANA KHAZANA, BHAKTAMAR STOTRA, etc. and films like INDRAJEET, JAAGRUTI, SHOLA AUR SHABNAM, BULLET – Ek Dhamaka, GUNAAH, DHUND – The Fog, KOI AAP SA, MUMBAI MATINEE, BUB, etc.
Later on he started doing projects independently and edited popular television serials like WAQT KI RAFTAAR, MAAN, SANJOG, THODASA AASMAAN, etc. and some Indian regional language films.
In 2006, Sundeep turned DIRECTOR with a Persian film called PANAAH – Baroye Zinda Mondan (Shelter-A reason to survive) and became very popular in Afghanistan. This film was shown to H.E. Hamid Karzai, President of Afghanistan and was appreciated by him. He is the first Indian film director to direct a persian film for Afghanistan audience.